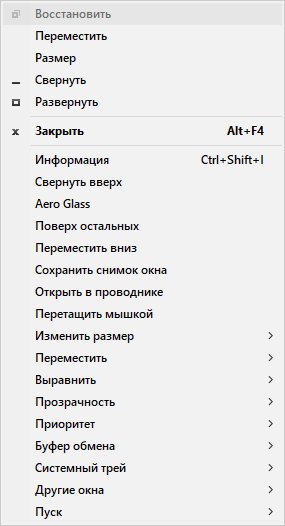 SmartSystemMenu adds additional system menu items. SmartSystemMenu extends system menu of all windows in the system.
What adds:
• Information. Displays a dialog with detailed information about the window and the process that owns the window.
• Roll up. Allows you to roll up to the window title and back.
• Aero Glass. Enables Aero Glass for the current window. (Supported on Windows Vista and above. Useful for most console windows.)
• Always On Top. Displays the window on top of other system windows.
• Send To Bottom. Displays a window behind all system windows.
• Save Screenshot. Allows you to save a screenshot of a window to a file.
• Open File In Explorer. Opens File Explorer with a selected file for the process that owns the window.
• Drag By Mouse. Allows you to drag the window with the mouse over any area of ​​it.
• Resize. Allows you to resize the window.
• Move To. Allows you to move the window to another monitor.
• Alignment. Allows you to align the window in one of 9 positions.
• Transparency. Allows you to change the transparency of the window.
• Priority. Allows you to change the priority of the process that owns the window.
• Clipboard. Allows you to copy the window text to the clipboard or clear the clipboard.
• System Tray. Minimizes the window to the system tray.
• Other Windows. Allows you to close or minimize all system windows except the current one.
• Start Program. Launches any process specified through the program settings.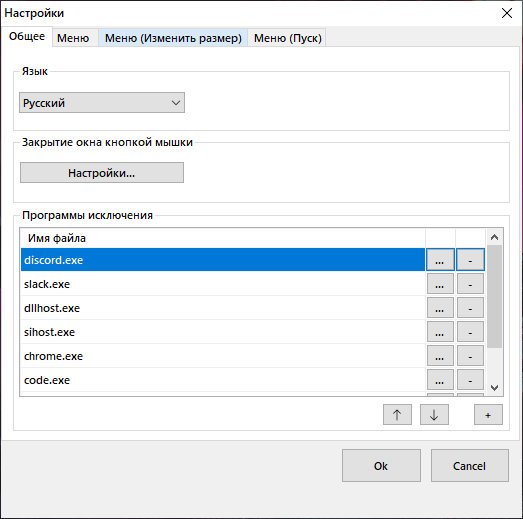 System Requirements
• Windows XP SP3 or later. Support for x86 and x64 systems.
• .NET Framework 4.0 Download SmartSystemMenu 2.22.0 utility (1 MB):
Download Now
Click on the image below the arrows and it will download automatically
↓↓↓↓↓↓↓↓↓↓↓↓↓↓↓↓↓↓↓↓↓↓↓↓↓↓