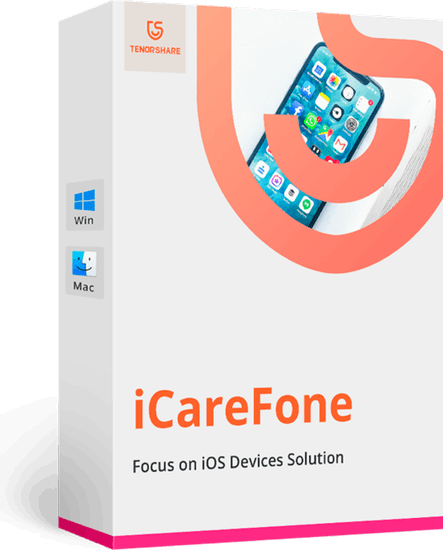 Tenorshare iCareFone is a magical speed up and cleanup app for iOS devices to instantly and securely erase junk files, free up lots of space, and protect personal data to keep your iPhone/iPad/iPod devices performing at the best possible level.
Transfer music, video, apps without iTunes
Allows you to sync files from iPhone, iPad and iPod to PC. In One click, the transfer is carried out.
• 8 file types: contacts, notes, calendars, applications, videos, bookmarks, photos and music.
• Directly adds items to an iOS device.
• Find and remove duplicate or unwanted items.
• Export files from your device to your computer.
• Duplicate contacts are merged in one click.
It is possible to get rid of temporary junk files
Removes various types of junk files, including cache, cookies and temporary application files, browser history, contacts, photo gallery cache files, erroneous data, error reports, etc.
• Permanently deletes unnecessary system files, including corrupted downloads, downloaded temporary files, report files, etc.
• Lossless photo compression frees up 70% of memory.
• Manage large files that take up most of the memory.
• Erases unnecessary applications in iPhone to free up memory.
Fix any frustrating situations
Fix iOS errors that happen to iPhone, iPad or iPod after iOS updates, reboot, etc.
• Entering and exiting recovery mode can solve problems such as iPhone/iPad/iPod stuck in recovery mode, DFU mode, icon iTunes with drawstring, Apple logo, etc.
• Recover iOS issues such as cycling, unresponsive screen, iTunes errors, app crashes, etc.
• Rebooting iPhone by entering and exiting recovery mode is the best way to solve these problems.
Tenorshare iCareFone iOS system recovery solution
– a special utility will help determine which firmware version should be updated, download it if the user does not have it on the computer, and then restore the device. In this case, of course, all errors that have occurred with the system will be corrected.
• The iOS device cannot turn on due to file loss in the system.
Unable to receive update message and cannot update iOS.
• Failure of the iOS operating system.
• Recovery mode or DFU mode cannot solve problems and the device still freezes.
Blocking Ads and Banners on iPhone, iPad and iPod
iCareFone (iPhone Care Pro) can remove or disable ads and banners from apps on iPhone, iPad and iPod Touch. It creates an ad-free environment for you.
• Remove all types of banner ads from popular apps: Pandora, YouTube, Airborne, etc.
• Ad blocking. Your applications will not be damaged and no personal information will be given out.
• Optimize iOS system performance as much as possible.
Backup and restore data on iOS
iTunes not recognizing iPhone? Even without iTunes, you can still backup and restore iPhone, iPad and iPod from iTunes backup.
• Faster than the traditional iTunes method, no need to download all iTunes libraries.
• Automatically organized all backups in iTunes.
• Remove unwanted backups and free up more space on your hard drive.
OS: Windows 11, Windows 10, Windows 8/ 8.1, Windows 7 Download Tenorshare iCareFone 8.6.5.14 (103.3 MB):
Download Now
Click on the image below the arrows and it will download automatically
↓↓↓↓↓↓↓↓↓↓↓↓↓↓↓↓↓↓↓↓↓↓↓↓↓↓