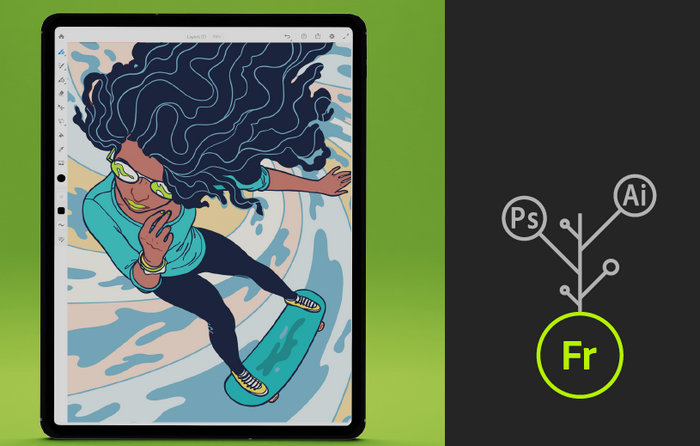 Adobe Fresco is designed for the latest touch devices with modern styluses. It combines the world's largest set of vector and bitmap brushes, plus new brushes that look like the real thing. Now you can draw on an electronic device in the same way as on a canvas. Fresco is ideal for artists, illustrators, animators, sketch artists and anyone who wants to discover – or rediscover – the world of creativity and try their hand at drawing.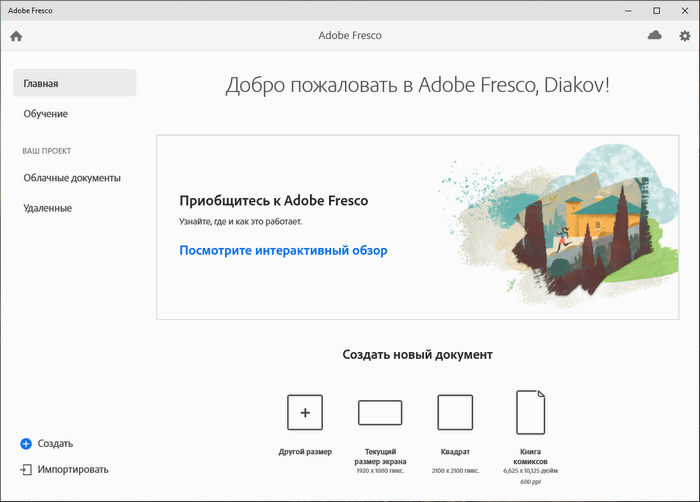 Program features:
Thousands of amazing brushes. 

Use watercolor and oil paints that can be mixed or thinned with a single tap on the screen. Paint with vector and bitmap brushes simultaneously on the same canvas. Thousands of Photoshop brushes are available to you, including those from famed award-winning illustrator Kyle T. Webster. With Adobe Fresco, you can easily select from the largest collection of brushes in the world and apply them to your work.

Adobe Sensei AI technology makes it feel like you're working with real brushes and canvas. 

Paint with watercolor that sinks onto the canvas and spreads like a real one. Apply thick oil paints in swirls or dots, and even in several layers to give the picture volume.

More creativity, less routine. 

We've improved the basic drawing tools so they work even faster and better when using a stylus and touch devices. Enhanced selection and masking workflows help you create your artwork by isolating parts of a layer and converting selections into masks. Customize the interface for comfortable drawing with your right or left hand. Switch to full screen mode to see the entire work.

Your studio is the whole world

 . Start a project on your iPad and finish it on your PC – working files in the cloud will automatically sync with your PSD files, regardless of the device you use. Plus, with Creative Cloud integration, brushes, fonts, and Adobe Stock and Library assets can be accessed with just a few clicks.
Adobe Sensei AI technology makes it feel like you're working with real brushes and canvas. Paint with watercolor that sinks onto the canvas and spreads like a real one. Apply thick oil paints in swirls or dots, and even in several layers to give the picture volume. System requirements: – Operating system: Windows 10 version 1809 or later 64-bit – GPU: Intel or NVIDIA GPU with Direct X supporting Feature Level 12.1 – Latest graphics driver required for Windows 10 – RAM: 4 GB – Space hard disk space: 5 GB of free hard disk space to install the application


– Internet: Internet connection and registration required for mandatory software activation, verification of subscriptions, and access to web services. Download Adobe Fresco 4.3.0 (863.98 MB):
Download Now
Click on the image below the arrows and it will download automatically
↓↓↓↓↓↓↓↓↓↓↓↓↓↓↓↓↓↓↓↓↓↓↓↓↓↓