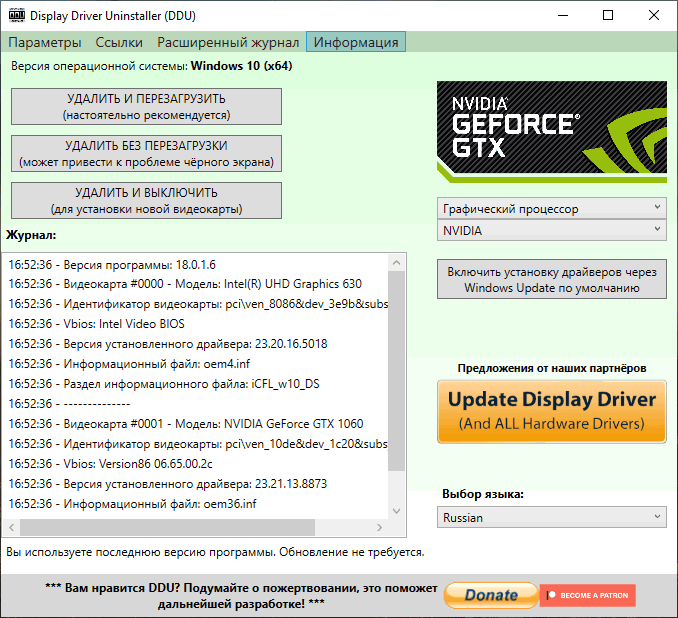 Display Driver Uninstaller (DDU) is a driver removal tool that can help you completely remove AMD (ATI), NVIDIA and Intel graphics drivers from your system without leaving any residue (such as registry keys, folders, files, driver store). Over time, these leftover files can lead to compatibility issues, slow performance, or system crashes. By using DDU, you can remove remnants of old drivers and resolve many common graphics driver related issues.
The program offers three modes of operation:
Delete and reload. 

Remove selected GPU drivers and reboot. This option is recommended in most cases if you have only one brand of video card installed. After the reboot, you will be able to start installing new drivers.

Delete without reboot. 

This uninstall option is intended if you had several different GPUs installed. Uninstall each driver one by one and then reboot.

Delete and turn off. 

Will remove the selected drivers and turn off the computer. This is handy if you plan to change your graphics card.
Recommendations for use:
– Run the program in Windows Safe Mode.
– Turn off the Internet while working with the utility. This will avoid the automatic installation of drivers by Windows Update.
– Create a system backup or restore point.
Version changes:
– AMD: Removed the AMDKMPFD driver from the driver store when applicable.
– DDU: Added new command line arguments: -removemonitors, -removenvidiadirs, -removeamddirs, -remove3dtvplay, -removecrimsoncache, -cleanallgpus
– Language: Swedish.xml
– Note: -cleanallgpus command effectively cleans all GPUs from all manufacturers using maximum parameters cleaning.
Download Display Driver Uninstaller 18.0.6.4 (0.9 MB):
Download Now
Click on the image below the arrows and it will download automatically
↓↓↓↓↓↓↓↓↓↓↓↓↓↓↓↓↓↓↓↓↓↓↓↓↓↓