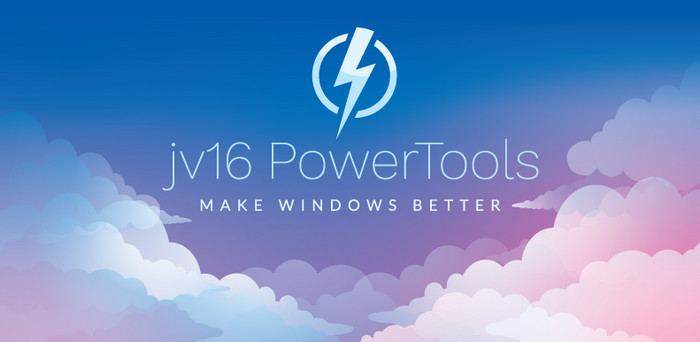 Multilingual, registered regular and portable versions in one installer.
jv16 PowerTools – a set of utilities for optimizing and speeding up your computer, cleaning the system. Allows you to manage files, startup, registry and Windows services, remove unnecessary programs.
Even the smallest details of this product have been designed for easy and comfortable use. The Windows Control Panel style user interface and intuitive graphical tabs make the jv16 PowerTools solution easy to manage.
The automatic backup function makes it safe to use: even if you are just learning the basics of optimization, trying out various functions of the utility and making a mistake somewhere, you can always simply restore the backup created by the program.
Key features of jv16 PowerTools:
• Clean junk files and fix Windows errors
• Uninstall applications and their leftovers in the system
• Tune Windows for better performance
• Speed ​​up Windows OS loading
• Increase online security and privacy
• Clear computer history and recently used list items
• Accidentally deleted file recovery
Key tools jv16 PowerTools
System Cleanup and Repair
– The program finds and fixes errors in the registry, removes unnecessary registry junk, junk files, leftover temporary files, junk log files and more.
Complete removal of programs and leftovers
– Shows a list of programs installed on the system and helps you remove unnecessary and old programs, as well as applications that are not removed in the standard way.
Program Startup Management
– Helps you check which programs and DLLs start automatically with Windows and disable those you don't really need. Startup management makes it easy to speed up the startup time of your computer.
Speed ​​up your computer
– Allows you to use various settings (tricks) to improve the performance of the Windows system.
Computer Immunization
– jv16 PowerTools easily blocks your computer from accessing known malicious websites to improve security and privacy. Allows you to block adware and spyware by automatically modifying the hosts file.
Batch uninstall applications
– Allows you to easily uninstall software in batch mode from your computer. This helps to quickly remove all unnecessary programs, such as those installed on a new computer.
RePack's features:
Type:
 installation | unpacking the portable version.
Languages:
 ML.
Activation:
 completed.
Cut:
 nothing.
Command line switches:
Silent installation of the regular version: /S /I

Unpack portable version: /S /P

It is also possible to select a directory for installation: After all keys, add /D=%path% Example: setup_file.exe /S /I /D=C:\Program
OS: Windows 11/10/8/7/Vista Download jv16 PowerTools 8.0.0.1556 (22.04 MB):
Download Now
Click on the image below the arrows and it will download automatically
↓↓↓↓↓↓↓↓↓↓↓↓↓↓↓↓↓↓↓↓↓↓↓↓↓↓