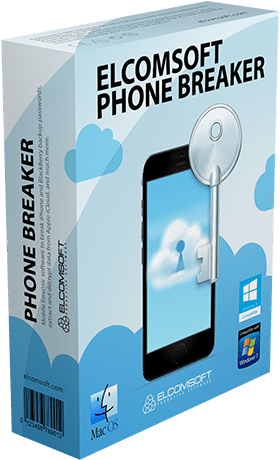 Elcomsoft Phone Breaker is a universal tool for extracting data from backups and cloud storages of mobile devices running iOS, Windows Phone and BlackBerry 10.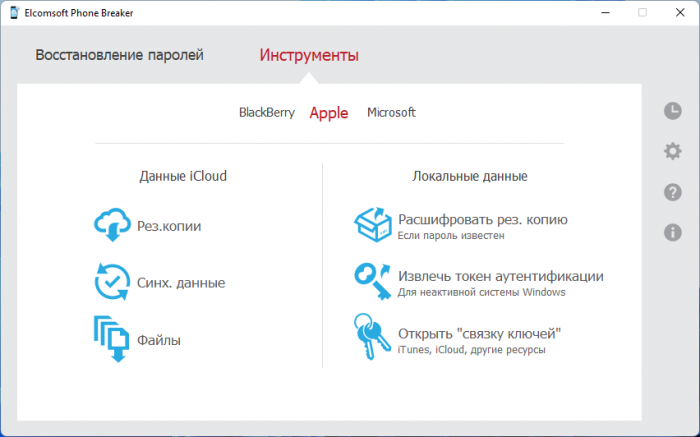 Features:
• Extract data from mobile device backups
• Download system backups and synced data from iCloud
• Brute force iOS backup passwords using hardware acceleration on consumer graphics cards
• Authorization in iCloud without Apple ID and password, support for two-factor authentication
The tool allows experts law enforcement agencies to access password-protected backups or download data from "cloud" storage. The utility supports all BlackBerry smartphones up to BlackBerry 10 and all portable devices on the Apple iOS platform, including iPhone, iPad and iPod Touch of all generations and versions up to X/Xr/Xs.
The utility allows you to recover passwords for backups of Apple devices and older versions of BlackBerry, and data from BlackBerry 10 backups is decrypted using a server key. For devices running Windows Phone, extraction from the Microsoft cloud storage is supported. Backups may include address books, call logs, SMS archives, calendars, to-do lists, photos, voicemail and email account settings, third-party applications, web browsing history, and the contents of these pages stored in the cache.
Extracting data from the "cloud" iCloud
iOS device users have several options for backing up the contents of their devices. You can back up your information and store it locally on your computer using Apple iTunes. An alternative is to automatically back up data in Apple's iCloud cloud storage. Introduced in June 2011, iCloud allows users to store their device data on remote servers and use it across multiple devices. In addition, iCloud can be used to sync email, contacts, events, bookmarks, photos, and other information.
iCloud backups are incremental. If the device is set up to use iCloud, the device automatically creates a backup every time it connects to a wireless network and a power source.
With Elcomsoft Phone Breaker, you can extract directly from the "cloud", even without the device itself on hand. All that is required to access iCloud Online Archives is the user's Apple ID and password, or a binary authentication token retrieved from the user's computer. Data can be accessed without the user's consent, making Elcomsoft Phone Breaker an ideal solution for law enforcement and intelligence organizations.
Cloud storage retrieves both iOS device data backups and other files stored in iCloud:
• iWork documents (Pages, Numbers, Keynote) – if cloud saving is configured
• third-party application documents (game saves, password databases, copies of WhatsApp conversations, etc.)
• some system files, including user dictionaries
• iCloud Keychain
• SMS and iMessage messages, including attachments
Main benefits of the product:
• iCloud Keychain
• Health data, messages and attachments from iCloud
• Selective access
• Access to synced data
• Access to deleted photos from iCloud Photo Library
• Decryption of FileVault 2 volumes
• Two-factor authentication
• Retrieve information from iCloud without login and password
• Retrieve files from iCloud
• BlackBerry 10 support
• Password storage programs
• Windows Phone 8 & Windows 10 Mobile: Retrieve data from the "cloud" storage
• Retrieve data from Apple iPhone backups, iPad and iPod Touch
• Hardware acceleration
• Smart attacks
• Retrieve and decrypt stored passwords
• Work offline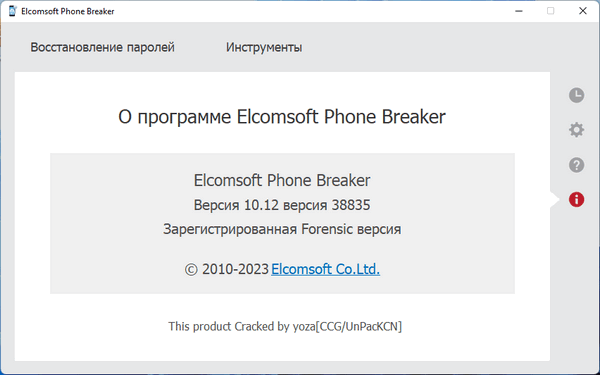 OS: Windows 11, Windows 10, Windows 8/ 8.1, Windows 7 and Windows Server 2008/2016 Download Elcomsoft Phone Breaker Forensic Edition 10.12.38835 (86.5 MB):
Download Now
Click on the image below the arrows and it will download automatically
↓↓↓↓↓↓↓↓↓↓↓↓↓↓↓↓↓↓↓↓↓↓↓↓↓↓