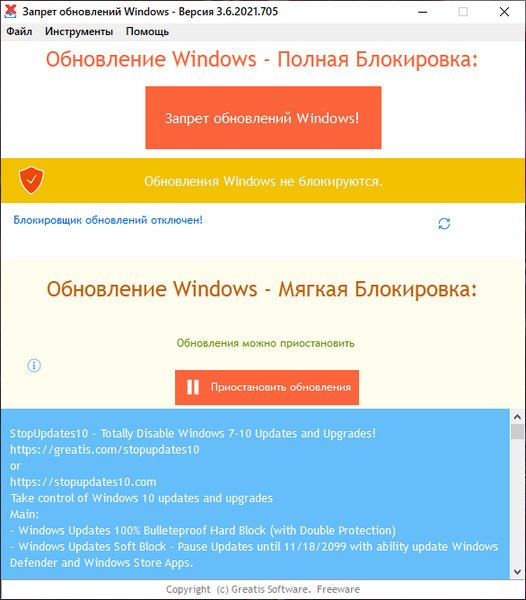 StopUpdates10 is a free utility for Windows 10 that modifies system settings to block installation of Windows updates on the target device.
Blocking updates is not the best idea, because in this case you are blocking the installation of critical updates and security patches.
However, sometimes you still need to block the installation of updates as a temporary measure. The Microsoft cumulative update system does not allow you to block individual updates that can create problems and conflicts in the system.
The only option available to users and administrators is to block all updates until all known issues are resolved.
Features
• Blocking Windows Updates.
• Block forced updates.
• Block annoying update notifications.
• Instant undo changes. Click the Restore button to roll back all changes.
Benefits
• StopUpdates10 does not delete files, change the permissions of individual files, or perform other system-damaging actions.
• StopUpdates10 is small and extremely easy to use.
• StopUpdates10 is absolutely free.
How it works
• StopUpdates10 creates special registry keys to block updates.
• StopUpdates10 blocks some of the processes used for updating.
How to remove StopUpdates10
• Use the standard Windows uninstall method.
• You can also run the following file with administrator rights: "C:\Program Files (x86)\StopUpdates10\unins000.exe".
StopUpdates10 will automatically restore the functionality of the Windows Update system during uninstallation.
Automation
You can use StopUpdates10 in your bat files or scripts. Make sure you are running the utility with an administrator account.
• Disable Windows updates: StopUpdates10.exe /disable
• Enable Windows updates: StopUpdates10.exe /restore
OS: Windows 11/10/8/7 (32 and 64bit) Download StopUpdates10 utility 4.0.2023.306 + Portable (5 MB):
Download Now
Click on the image below the arrows and it will download automatically
↓↓↓↓↓↓↓↓↓↓↓↓↓↓↓↓↓↓↓↓↓↓↓↓↓↓