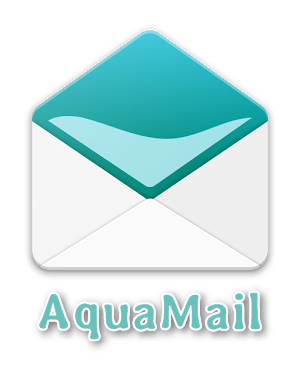 Aqua Mail is an email program for personal and corporate mail. Flexible enough to let you work with your email just the way you're used to it, this program will be a great replacement for your current email program. Aqua Mail offers many settings for the appearance and logic of the program, as well as features that improve the convenience and efficiency of working with mail. You can customize the program so that it looks and works the way you need it.
Aqua Mail will automatically set up accounts in the most popular mail services, has excellent compatibility with others, and also allows you to set account settings yourself.
Main features:
• Easy setup for: Gmail, Yandex, Yahoo, Hotmail, FastMail, Apple, Rambler, Mail.ru and others;
• Recognizes: Google Apps, Yandex for Domains, Yahoo BizMail, Office 365, Exchange Online and others;
• Standard Internet mail protocols: IMAP, POP3, SMTP; and also Exchange: EWS;
• Improved security: OAUTH2 authorization for Gmail, Yandex, and Hotmail accounts;
• Instant receipt of mail (IMAP push): if the server has IMAP IDLE technology (most mail services on the Internet, except for Yahoo, as well as their own IMAP servers);
• Integration with programs: Light Flow, Enhanced SMS & Caller ID, Cloud Print, Apex Launcher Pro, Nova Launcher / Tesla Unread, Executive Assistant, DashClock Widget;
• Integration with Tasker: you can change settings, check mail, program events for incoming messages.
Additional features:
• Widgets for the home screen: message counter or list of messages;
• Flexibility in working with folders: synchronization of Drafts, Sent, Deleted messages with web mail and other mail programs; access to other folders, not just Inbox;
• Access to contacts on the server: address auto-completion from personal address book and corporate directory (for Exchange and Office 365 accounts);
• Calendar: 2-way calendar synchronization (for Exchange and Office 365 accounts);
• Registration in the text of letters and signatures: inserting pictures and links, using color, text formatting;
• Save attachments as files;
• Grouping of letters according to the history of correspondence, which can be disabled;
• Support for Android Wear smart watches: notifications with text from letters and actions on letters, including reply via voice input;
• Cancel actions on messages: "Delete", "Move to folder" and others can be canceled;
• Archiving and restoring program settings and accounts: popular cloud storage (Dropbox, OneDrive, Box, Google Drive) or just to a file;
• Adaptation to the Internet connection: separate settings for WiFi and mobile data.
Advantages of the Pro version:
• Support for more than two accounts
• Push-mail for Exchange (corporate mail)
• Support for additional sending addresses (aliases)
• No promotional signature in sent messages. What's new:
• Added a temporary workaround for users of Hotmail/Outlook/Live who might have encountered an issue when sending emails.
OS: Android™ 5.0 and higher
Interface language: Russian / multilingual
Download Aqua Mail Pro 1.43.0 build 104300274 (31.9 MB):
Download Now
Click on the image below the arrows and it will download automatically
↓↓↓↓↓↓↓↓↓↓↓↓↓↓↓↓↓↓↓↓↓↓↓↓↓↓