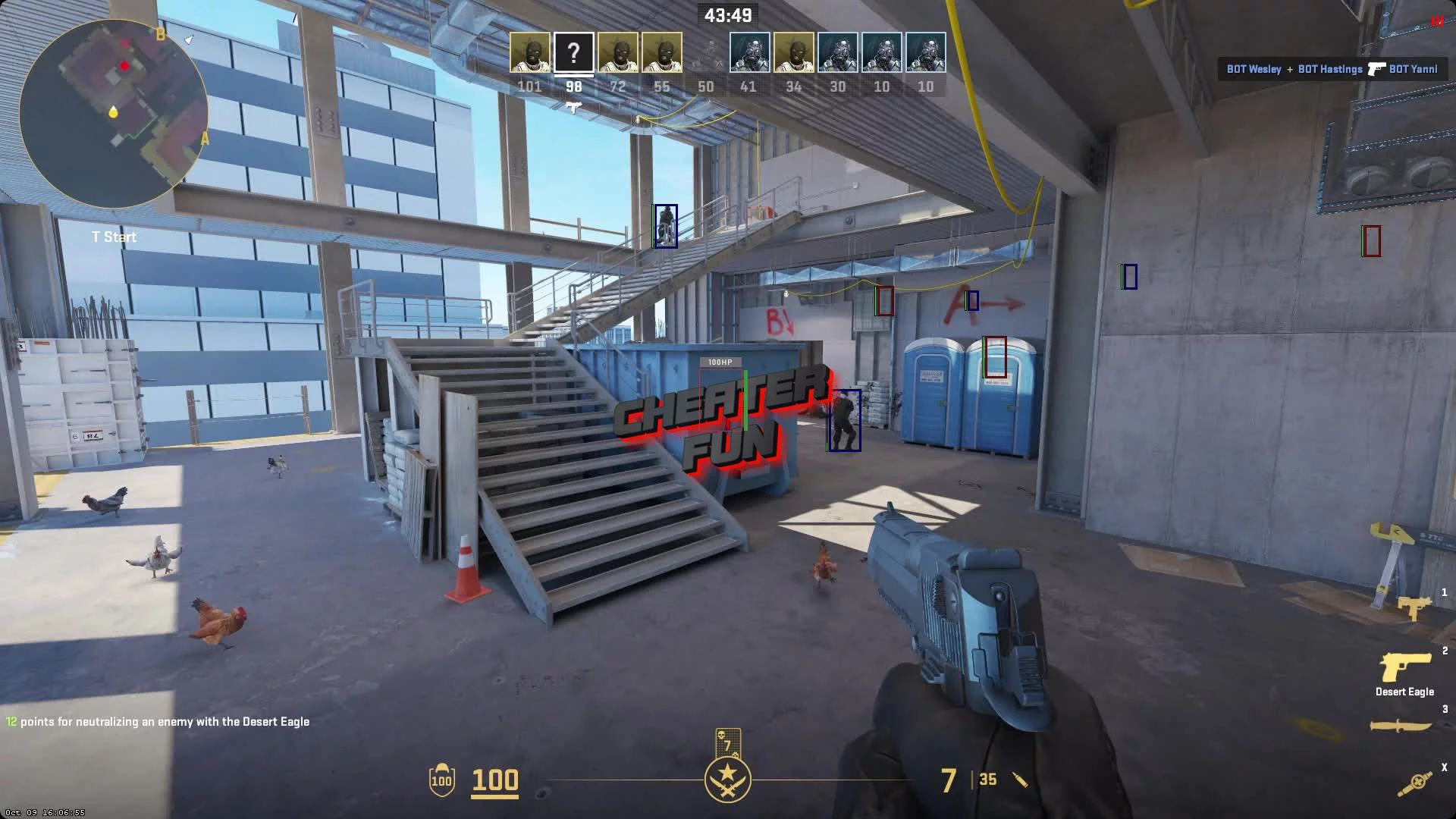 I suggest you download a simple cheat CS2 ESP (Wallhack) on Counter-Strike 2 with which you can see your opponents through any textures on the map, it can be buildings, walls, blocks, etc. If you want to keep your account and use a minimum of features, then this esp hack is perfect for you.
CT players will be highlighted in blue, T players will be highlighted in red, additionally you will be able to see the amount of health.
How to use
1. Start the Counter-Strike 2 game
2. Run the cheat csgo2.exe
3. Enjoy!
CS2 game update came out and the cheat doesn't work?
The solution is very simple, in the archive you can find the file offsets.json in which you can update the offsets yourself.
Offsets (Build: 9 November 2023 – 02:31:xx UTC):
{
    

"dwViewMatrix"

: 

25215216

,
    

"dwLocalPlayerPawn"

: 

23879792

,
    

"dwEntityList"

: 

24828656

,
    

"m_hPlayerPawn"

: 

1980

,
    

"m_iHealth"

: 

812

,
    

"m_lifeState"

: 

816

,
    

"m_iTeamNum"

: 

959

,
    

"m_vOldOrigin"

: 

4644

,
    

"m_pGameSceneNode"

: 

784

,
    

"m_modelState"

: 

352

,
    

"m_boneArray"

: 

128

,
    

"m_nodeToWorld"

: 

16

,
    

"m_sSanitizedPlayerName"

: 

1824


}
Download Now
Click on the image below the arrows and it will download automatically
↓↓↓↓↓↓↓↓↓↓↓↓↓↓↓↓↓↓↓↓↓↓↓↓↓↓