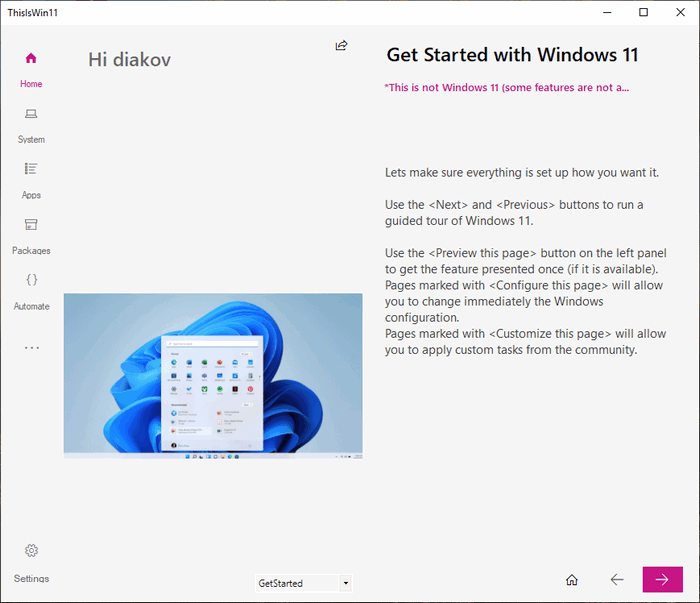 ThisIsWin11 is an application for optimizing and configuring Windows 11, removing pre-installed applications, and quickly installing packages of popular applications. Additionally, the program includes step-by-step instructions for familiarizing and configuring Windows 11.
The ThisIsWin11 application includes 5 modules:
Windows 11 Discover and Setup Wizard. With it, you can get acquainted with the operating system, customize its appearance and perform various system settings.

System tweaks. In this section, you can change personalization, system, privacy, and app permissions settings.

Removing preinstalled applications. Includes the ability to uninstall applications that come with the operating system and cannot be uninstalled through Settings.

Installing packages. Includes a list of useful application packages that can be installed in a couple of clicks.

Automated scripts. This section contains a list of helpful community-provided PowerShell scripts that can be used to perform several useful tasks in Windows 11.
The ThisisWin11 tweak set includes many useful options, among which the following settings are worth highlighting:
Using the dark theme in applications and in the system

Enable or disable Snap Assist

Placing the taskbar on the left

Hiding the search icon on the taskbar

Show hidden files, folders and drives in Explorer

Disable Autoplay in Microsoft Teams

Disabling the Game DVR function

Disable diagnostic data collection

Disabling the Microsoft Compatibility Telemetry Service

Disable Advertising ID

Turn off recommendations in the Settings app

Disabling the Windows Hello Biometrics Service

Turn off app notifications

Disable app access to microphone/calls/notifications
OS: Windows 11 Download ThisIsWin11 1.4.0 (0.1 MB):
Download Now
Click on the image below the arrows and it will download automatically
↓↓↓↓↓↓↓↓↓↓↓↓↓↓↓↓↓↓↓↓↓↓↓↓↓↓