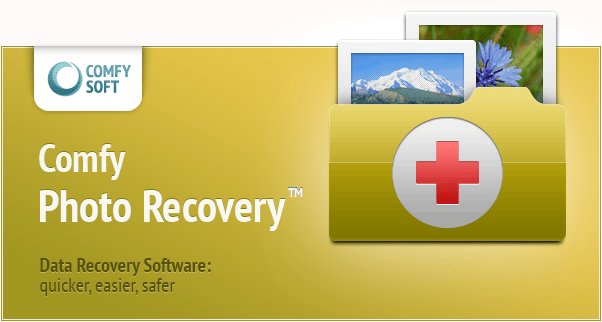 Recover digital images with Comfy Photo Recovery . The program recovers not only accidentally deleted photo files, but also images lost after formatting a hard drive, memory card or USB flash drive. The "Search Partitions" function implemented in the program allows you to find and continue restoring digital images from a partition that has been deleted.
Comfy Photo Recovery is extremely easy to use, the interface is designed in the form of a step-by-step wizard that offers you to fill in the parameters necessary for recovery. The program guides the user through searching, recovering and saving deleted photos. More pleasure than the process of working with the program will bring you only the result of photo recovery!
During operation, Comfy Photo Recovery only reads disk data. The program does not write anything to the disk and does not overwrite your deleted files. The utility allows you to create a virtual image of a logical partition or physical media for subsequent recovery of information. This feature greatly reduces the chance of harming data that is on a damaged ("broken") drive.
Program features:
• Recovers digital images in the following formats: jpe, jpeg, jpg, bmp, psd, gif, ico, psp, wmf, png, tif, tiff… • Recovers digital photos, including
RAW files of professional cameras in the following formats: 032, 3fr , arw, bay, bmq, cr2, crw, cs1, dc2, dcr, dng, erf, fff, k25, kdc, mef, mos, mrw, nef, orf, pef, pxn, qtk, raf, raw, rdc, sr2 , srf, x3f.
• Restores images deleted from memory cards (Smart Media, Compact Flash, Memory Stick, Sd, Xd) cameras, mobile phones, smartphones, tablets. Recovers deleted photos from hard drives, removable drives, USB flash drives (Sony, Datatraveler, Kingston, Kingmax, Sandisk, Silicon, Transcend), internal memory of cameras from the following manufacturers: Nikon, Canon, Olympus, Casio, Kodak, Sony, Pentax, Panasonic.
• Recovers photo files lost after a quick, full format or complete removal of a logical drive. Displays images found for recovery in the form of thumbnails, and also allows you to filter and sort the list of found files by date, size, resolution.
The recovered files program allows you to:
• save to any logical partition connected to the user's system;
• burn to CD / DVD disc or create an ISO image with recovered data;
• save to a remote server via FTP protocol.
OS: Windows 11, Windows 10, Windows 8/ 8.1, Windows 7, Vista, XP Download Comfy Photo Recovery 6.5 (14.8 MB):
Download portable program Comfy Photo Recovery 6.5 (13.4 MB):
Download Now
Click on the image below the arrows and it will download automatically
↓↓↓↓↓↓↓↓↓↓↓↓↓↓↓↓↓↓↓↓↓↓↓↓↓↓