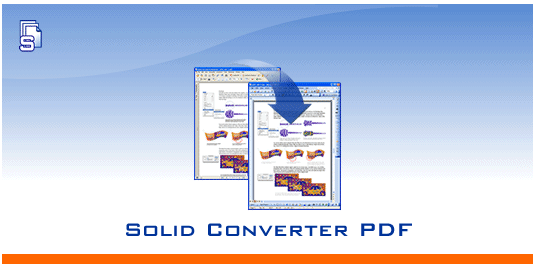 Solid Converter is the best PDF to editable Windows document converter. If you need to get the contents of a PDF file in Microsoft® Word, Excel, PowerPoint, HTML or text document formats, using Solid Converter is an easy and reliable way.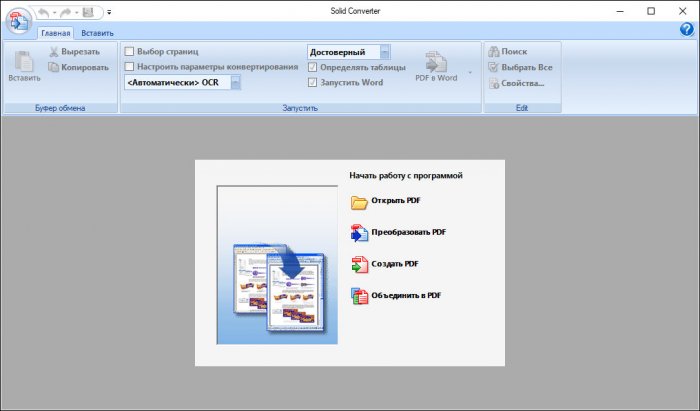 Main features:
• Convert PDF to Word. Convert PDF files to editable Word documents.
• Scan to Word. Scan a paper document to a formatted editable Word file from the Microsoft® Word environment using the Solid AddIn plugin.
• Convert PDF to Excel. Convert tables from a PDF document to Microsoft® Excel spreadsheets. Convert an entire document or a specified range of pages.
• Convert PDF to PowerPoint. Convert PDF pages to editable PowerPoint slides.
• Convert PDF to HTML. Convert PDF to high-quality HTML documents while maintaining styles, tables and hyperlinks.
• Extract data. Use this to extract data from PDF files to .CSV files. User options include: specify delimiter, line terminator and encoding to be used during extraction.
• Convert PDF to Text. Extract text content from PDF. Recognition of multi-column text. Removing footers.
• Extract content in WYSIWYG mode. Convert selected text, tables and figures from PDF. Create formatted Word documents, Excel spreadsheets, or image files.
• Consolidation of documents. Create a single PDF document from multiple files. Ability to merge multiple PDF files.
• Reorder pages. Ability to reorder pages and exchange pages between PDF documents.
• Extract pages. Extract selected pages of a PDF document into one or more newly created PDF files.
• Multiple conversion. Batch file conversion is possible.
• Create PDF. A convenient way to create PDF files from documents of any format. WYSIWYG user interface.
• Print to PDF. Easily create PDF files from any Windows application.
• Password protection of PDF documents. It is possible to restrict the use of the document – prohibition of viewing, printing, copying, making comments without entering a password.
• Security format 256 AES. A new level of protection is supported for Adobe® Acrobat® 9 or higher. 128-bit RC4 or AES algorithms are also supported.
• Archiving in PDF/A format. Create PDF/A documents that are compatible with current ISO archiving standards.
• Entering information about the document. Set the title, author name, subject, and search keywords.
• Optimizing the size of the generated file. Use our optimization options to create the right size PDF for your intended use.
• Options for Acrobat Reader. Set default view including page configuration, magnification, page thumbnails.
• PDF bookmarks from Office. Automatic creation of bookmarks when creating PDF from Word, PowerPoint, Excel or Publisher documents.
OS: Windows 11, Windows 10, Windows 8.1, Windows 7 (32 and 64 bit versions). Download Solid Converter PDF 10.1.15836.9574 (130.8 MB):
Download Now
Click on the image below the arrows and it will download automatically
↓↓↓↓↓↓↓↓↓↓↓↓↓↓↓↓↓↓↓↓↓↓↓↓↓↓