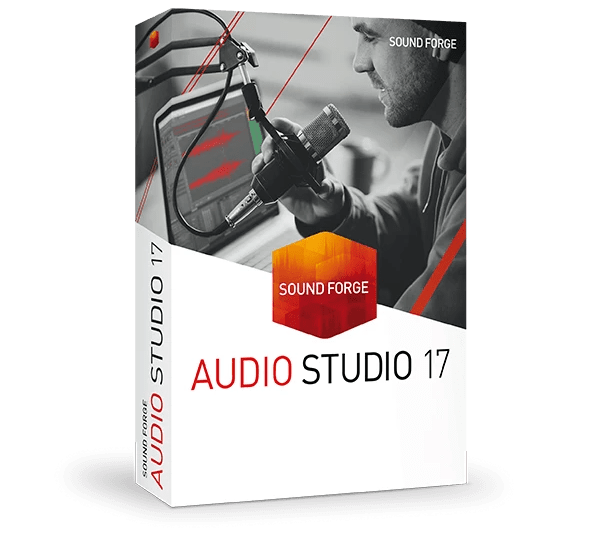 SOUND FORGE Audio Studio 17 provides comprehensive tools and features for digital audio editing. Record professional quality podcasts and edit your recordings with a full range of professional effects. Digitize old vinyl and modify audio files with restoration and mastering tools for clean, professional sound. Simple workflows for professional results: Try SOUND FORGE Audio Studio.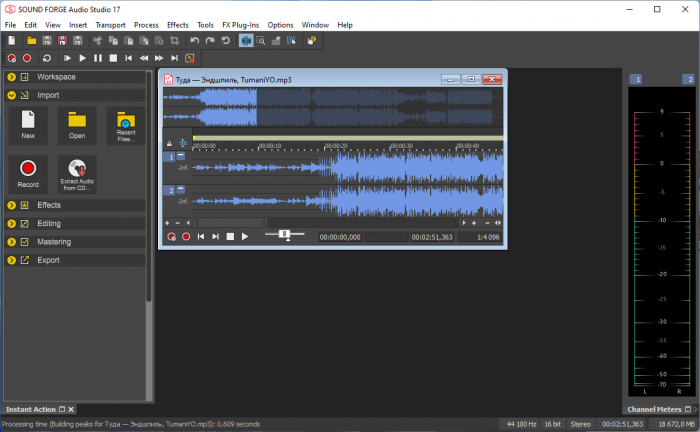 Sound Forge Audio Studio users can record musical instruments and vocals, edit and restore sound, apply studio-quality effects, and convert files to various formats (MP3, WMA and more) at lightning speed. The Vocal Eraser component allows you to remove the voice part from the tracks and thus get karaoke recordings. The CD burning feature is fully integrated into Sound Forge Audio Studio for easy creation of professional CDs. In addition, ready-made music tracks can be exported to MP3 players, including PSP, iPhone, iPod, or uploaded to Internet sites.
Key Features of Sony Sound Forge Audio Studio:
Live Sound Capture
To record live sound, the user just needs to connect a musical instrument or microphone to the PC sound card and press the record button. Sound Forge Audio Studio makes it easy to record musical instruments, vocals and more. Implemented the ability to import audio tracks from CDs and MP3 players. The Vinyl Recording and Restoration component records and restores music from vinyl records and audio cassettes.
Editing audio tracks
To get started, you need to drag the required file into the working field of Sound Forge Audio Studio. Users can adjust the audio level, trim unwanted parts, synchronize audio and video. When used in conjunction with ACID Music Studio, Sound Forge Audio Studio lets you create your own loops and samples.
Creating karaoke tracks
Sound Forge Audio Studio includes the Vocal Eraser software module, which allows you to remove vocals from a recording or extract a vocal part to create remixes.
Extended video support
The program is capable of synchronizing an audio track with a video sequence. Supports importing videos in common formats, including Windows Media, QuickTime, and others.
Applying Effects to Audio
Users can style audio tracks with over 30 built-in effects (EQ, Delay, Chorus, Distortion, 1001 Sound Effects). Support for DirectX and VST increases the ease of use of the application and expands the number of effects that can be applied.
Helping Users Learn the Program
Show Me How tutorials are designed to guide the user through every step of the creative process. Whenever help is needed, click the Show Me How button and select a guide on the relevant topic.
Recording, exporting and downloading
The program offers support for recording CDs with high-quality sound. Various recording methods are available – Track-at-Once (tracks are recorded sequentially, separated by a pause) or Disc-At-Once (flexible control of gaps between tracks). Audio recordings can be converted to MP3, WMA and other formats. In addition, you can create podcasts, export audio to MP3 players (PSP, iPod, iPhone, etc.) or upload tracks to the Internet.
What's new:
• NEW! Loudness Meter
• NEW! VST enhancements
• NEW! coreFX Utility
• NEW! Optimized onboarding
• modernEQ
• modern Reverb
• wizardFX Suite with professional effects plug-ins
• Truncate Silence function for removing pauses
• Export Wizard for Audible, iTunes, and Amazon audiobooks in accordance with ACX standards
• Redesigned Visualization Meter
System requirements:
• OS: Windows 11, Windows 10 – 64-bit version
• Processor: 1.4 GHz
• RAM: 512 MB
• Graphic card: Built-in, supports min. 1024×768
• Hard disk: 500 MB free disk space for program installation
• Sound card: built-in
• Program languages: Deutsch, English, Espanol, Francais, Polski Download MAGIX SOUND FORGE Audio Studio 17.0.0.81 (827.1 MB):
Download Now
Click on the image below the arrows and it will download automatically
↓↓↓↓↓↓↓↓↓↓↓↓↓↓↓↓↓↓↓↓↓↓↓↓↓↓