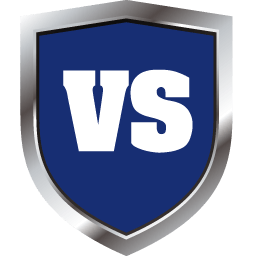 VoodooShield is a whitelisted proactive defense that uses VoodooAi anti-virus technology with online VirusTotal, local and cloud sandbox (Cuckoo) to scan unknown files.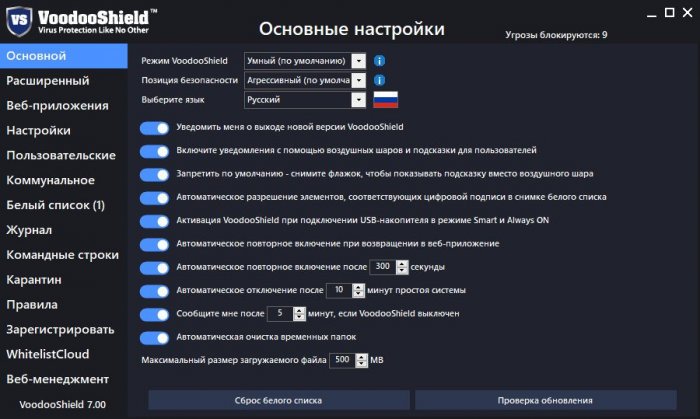 It is very important to understand how the product works in order to properly handle it. First of all, please note that VoodooShield is not intended to replace stationary anti-virus protection, but is only a useful addition that can significantly increase the level of security.
VoodooShield prevents the launch of programs not added to the exclusion lists, unlike other solutions that block the launch of applications added to the black lists.
Traditional antivirus solutions cannot respond to the latest threats that are created every day in the amount of 200,000 or more. VoodooShield blocks the launch of new applications (including malware and viruses) that are not whitelisted when using programs connected to the Internet (browsers, email clients, etc.). Since most threats enter the computer through the browser or email attachments, VoodooShield simply locks the computer when surfing the Internet and checking email messages. The product also protects the workspace when there are no clear signs of danger.
We emphasize that VoodooShielddoes not remove existing viruses. The solution uses its own proactive technology based on whitelisting snapshots to protect against malware and viruses. VoodooShield uses a patented auto-protection and lockout mechanism that activates when you launch network applications. The logic is extremely simple – while surfing, you should not run unknown executable files that are not whitelisted.
Important note:If you are installing VoodooShield for the first time, you must first make sure that there are no malware on your computer. If the system is infected, reset the exclusion lists once a week until the threats are completely eliminated. This measure will prevent the erroneous addition of malicious programs running on the system to whitelists.
VoodooShield Golden Rule: If VoodooShield has blocked a program that needs to be run anyway, manually allow it to run (assuming VoodooAi analysis didn't generate any warnings). Otherwise, if VoodooShield has blocked what VoodooAi thinks is dangerous, you should take this action and treat the object as malware or a virus.
How VoodooShield works (modes):
•Disable Protection – VoodooShield will be in the OFF state. This mode is similar to the training mode with one exception – new objects will not be added to the white list. Thus, the mode is used when installing new programs, when you do not want the installer to be automatically added to the exclusion list. In Disable Protection mode, the computer is left unprotected.
• Training(Learning Mode) – VoodooShield will be in the OFF state. Learning mode is usually used after installing VoodooShield and starting new programs. VoodooShield protection will be disabled, and new launched objects will be added to the white list, which means they will not be blocked when the security mechanism is enabled. In Training mode, the computer is left unprotected.
• AutoPilot/Antivirus Mode(Autopilot / Antivirus Mode) – VoodooShield will be in SCAN (Active Scan) state. Autopilot mode activates auto-protection, which allows the launch of files that are clean according to a cloud-based scanning service that uses 57 antivirus engines. If an unknown process caused one or more anti-virus engine triggers, then VoodooShield blocks its execution and prompts the user to choose a further action – allow execution or block. Autopilot mode is a great choice for users who want to get the full benefits of the whitelist method, but at the same time don't want to deal with multiple requests. This mode is actively used by gamers and testers.
• Smart / Default(Smart / Default Mode) – VoodooShield will toggle between ON and OFF states. Smart mode allows you to automatically enable or disable VoodooShield protection depending on potentially dangerous activity, such as launching a browser such as Internet Explorer or Firefox, using Microsoft Outlook email, etc. Thus, when an Internet application is launched, VoodooShield automatically turns on and locks the computer. Previously whitelisted applications are allowed to run, but other executable files are blocked.
Likewise, if browsers and other web applications are not running, VoodooShield automatically disables protection and can automatically whitelist when the computer is safe. This technology of automatic switching of protection activity allows you to significantly reduce the number of user requests that you need to respond to.
• Always ON – VoodooShield will be in the ON state. The Always ON mode is usually used after a few days or weeks have passed since the installation of the product, when the white list can be considered complete and formed. However, many users prefer to use AutoPilot and Smart on a regular basis.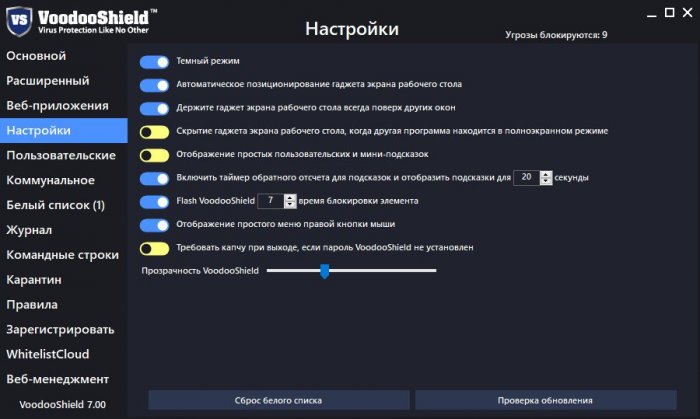 OS: Windows 11 / 10 / 8.1 / 8 / 7 (32|64-bit) Download Voodooshield Pro 7.41 (23.2 MB):
Download Now
Click on the image below the arrows and it will download automatically
↓↓↓↓↓↓↓↓↓↓↓↓↓↓↓↓↓↓↓↓↓↓↓↓↓↓