Syncovery is a file backup and synchronization tool with an installed task scheduler. The product works with physical and cloud storages, supports the function of simultaneous copying of different files. In Windows OS, the program is activated as a system service, which saves the user from having to enter the interface separately. The software solution works with Google Docs, FTP, HTTP, Amazon S3 protocols, supports zip-archiving and data encryption options. The functionality of the product is customizable, adapted for private and corporate users.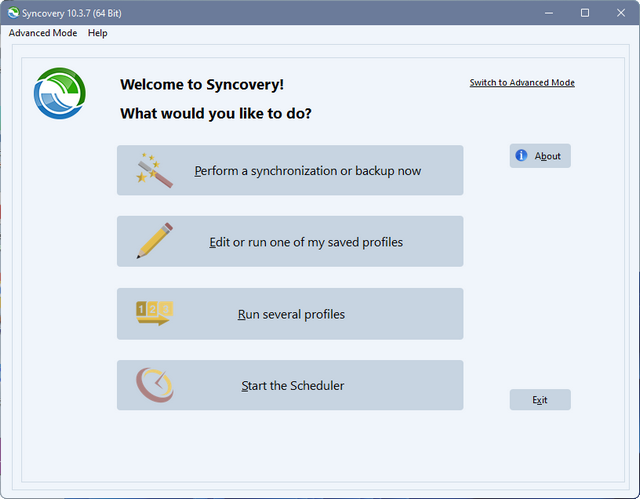 Key Features:
• Synchronizes or copies files and complete folder and file structures to multiple locations such as PCs, Macs, laptops, or online cloud storage. There are no restrictions on file sizes, number of files, or length of filenames. The program fully supports Unicode characters, copying of file names in all languages ​​is supported.
• Each sync task is saved as a profile so you can make settings once and use them all the time. With one click, you can run multiple profiles. You can also run profiles from the command line. Profiles can be created using the wizard or advanced mode.
• Copying multiple files in parallel. You can copy from 1 to 10 files in parallel. This can greatly speed up copying. Simply specify the number of simultaneous streams on the Files tab when editing a profile in Advanced Mode.
• Includes a scheduler. Schedule to sync your data to your backup hard drive at a convenient time each day, or as often as you want. You can also schedule the launch of profiles for shutting down the computer or exiting the session. The scheduler can run different jobs in parallel or sequentially. On Windows, the scheduler can run as a service without requiring user login.
• Internet and Cloud Support. Support for various Internet protocols including FTP, FTPS, SFTP/SSH, WebDAV, SSL, HTTP, as well as these cloud services: Amazon S3 and compatible services, Microsoft Azure, Rackspace Cloud Files, Microsoft OneDrive (formerly known as SkyDrive), Google Drive and Google Docs, DropBox, Box.com, and more.
• Supports Data Compression and Encryption. Easily compress your files and encrypt them with strong 256-bit AES encryption. To decompress and decrypt, simply use the Recovery Wizard or run the profile to copy and copy in reverse.
• Recognizes moving files. If you re-organize your folders and files by moving them to different locations, Syncovery will detect this and quickly re-organize the folder and file structure on the other side of the sync without deleting and re-copying those files.
• SmartTracking. This operating mode was designed for two-way synchronizations. In this mode, a database of all files involved in synchronization is created and Syncovery automatically detects deletions and conflicts during two-way synchronization. By clicking the Configuration button, you have access to the SmartTracking dialog where you configure how to act in various situations that may arise during two-way synchronization.
• Full mirror mode. This online mode was designed for one-way synchronizations. In addition to copying new files, this mode can also delete files that no longer exist on the side of the original source, and it can replace new files with older ones if a full mirror needs to be created.
• Auto mode. In this mode, no questions are asked when running the profile. All relevant parameters can be set before the start of synchronization in the profile settings.
• Copying locked files. If some files cannot be copied because other software is blocking access to those files, the Volume Shadow Copy Service can be used on Windows XP and later versions of Windows to copy the blocked files. If the files cannot be copied, the synchronizer will continue copying the remaining files, and then retry the files that were locked until all files have been copied. A retries time limit can be specified. On Macintosh and Linux, locked files can also be copied because the operating system does not normally hold locks as Windows does.
• Versioning: This feature allows you to keep multiple old versions of each file when backing up. Several file naming schemes are available.
• Block-level copy (or delta copy/partial file update): this function copies only the changed parts of files in order to increase synchronization speed.
• Secure DB Mode: This mode requires exclusive access to the copied files. If exclusive access is not possible, the Volume Shadow Copy Service will be used, or the program will wait until it obtains exclusive access to the file.
• Can use Recycle Bin for old versions of files that are overwritten, as well as for deleted files. This makes it possible to recover overwritten or deleted files. By default, recycle bin is used for deletion but not for updated files. These settings can be changed in profiles.
• File masks and filters. There are many ways to select and hide available files and folders when syncing.
• Summer time / time zones. It's rare to have problems copying within the same UTC/World time zone, however if it happens that your files have a different timestamp of 1 hour, there is a setting in the program to ignore the time difference and assume that the files are identical, provided that the file size is the same, and the time difference is exactly 1 hour (or the time difference is below the maximum number of hours allowed).
• Continue on disk full. You increase the disk space and tell Syncovery to continue copying. Syncovery may pause in the middle of a file and wait until more space is freed up.
OS: Windows 11, 10, 8.1, 8, 7, Vista Download Syncovery Premium 10.3.7.67 x64 (49.2 MB):
Download Now
Click on the image below the arrows and it will download automatically
↓↓↓↓↓↓↓↓↓↓↓↓↓↓↓↓↓↓↓↓↓↓↓↓↓↓