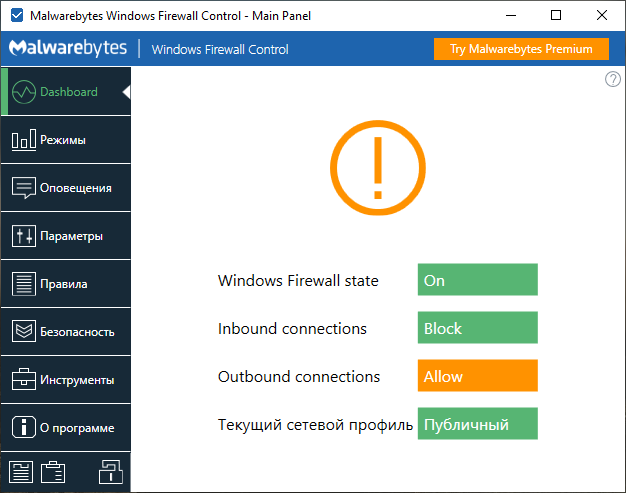 Windows Firewall Control is a small application that extends the functionality of the Windows Firewall firewall, provides quick access to the most requested firewall features in Windows 10, 8.1 and 7.
Filtering modes of Windows Firewall Control:
High Filtering:

 All outgoing and incoming connections are blocked. This mode blocks all attempts to connect from and to the computer.

Medium Filtering:

 Outgoing connections that do not match the rule are blocked. Only programs that you have allowed are able to initiate an outgoing connection.

Low Filtering:

 Outgoing connections that do not match the rule are allowed. You can block programs you want to block outgoing connection.

No Filtering:

 Windows Firewall is disabled. Try not to use this mode unless you have another firewall installed on your computer.
Changes in version:
– New: redesigned global hotkeys to support more combinations.
– Fixed: The WFC installer has been updated to protect against an exe hijacking vulnerability.
– Fixed: Moving a temporary rule to a different group name does not clear the obsolete rule.
System requirements:
– Microsoft .NET Framework 4.6 and above
– Compatible with 32-bit and 64-bit versions of Windows 10, 8.1, 8, Windows 7.
– Windows Firewall service must be enabled to run Windows Firewall Control.
– The DNS Client service must be enabled for notifications to work properly.
Malwarebytes, the developer of the popular Malwarebytes Premium and Malwarebytes Free security solutions, acquired Windows Firewall Control in June 2018. This is not the company's first purchase. In 2016, Malwarebytes bought the popular AdwCleaner PUP removal tool, and a year earlier, in 2015, another Junkware Removal Tool was bought out to clean up unwanted software.
Download Malwarebytes Windows Firewall Control 6.9.2.0 (2.6 MB):
Download Now
Click on the image below the arrows and it will download automatically
↓↓↓↓↓↓↓↓↓↓↓↓↓↓↓↓↓↓↓↓↓↓↓↓↓↓